Sports, Therapeutic & Pregnancy Massage
Pain Relief, Improve Health, Aid Recovery
We offer a range of specialised body and massage treatments here at BATG with our resident Body Specialist Becky Brown. Becky has extensive experience and knowledge within the industry and has previously worked with Grimsby Town Football Club and many local athletes and clients looking to recover from injury or relieve pain.
Becky's qualifications include:

Diploma in the Prevention and Management of Sports Injuries

VTCT Level 2 in Fitness Instruction
Becky has danced professionally since the age of 4 and is a Yoga expert and gymnast. Becky has over the last year been teaching children in Lincolnshire schools the benefits of yoga and gymnastics.
Becky is an expert in exercise advice and how you can keep yourself in shape and good health. You don't just a get a treatment with Becky but invaluable advice too. Oh, and you'll be hard pressed to find someone with the enthusiasm and passion that Becky brings to her time with her clients.
Sports Massage
Sports massage is a specialised form of massage utilising various compression, stroking, frictional and deep tissue techniques to achieve a desired therapeutic effect based on individual client needs. Lauren's focus is on diagnosing the root cause of your pain, resolving that pain and getting you to full fitness as soon as possible. Her focus on results, pain free movement within the realms of prevention, treatment and rehabilitation ensures the best possible outcome for clients. Sports massage can help to improve lymphatic drainage, decrease muscle tone/tension, release trigger points and thickened soft tissues, helps to restore optimum tissue length, providing pain relief. Thus, potentially leading to improved recovery following exercise, improved athletic performance, and increased psychological well being.
One of the primary goals of therapeutic massage technique is to relax the entire body. This is accomplished by rubbing the muscles with long gliding strokes in the direction of blood returning to the heart. The techniques used in a therapeutic massage by Lauren are bespoke to each individual client and are exceptionally beneficial for increasing the level of oxygen in the blood, decreasing muscle toxins, improving circulation and flexibility while easing tension.
Initial Sports/Therapeutic Consultation - Assessment & Treatment - 60 minutes - £45
Sports/Therapeutic 45 Minute Treatment £35 - 60 Minutes £45 - 75 minutes £55 - 90 Minutes £65
Pregnancy Massage
Our Elemis based Pregnancy Massage is a healthy way to reduce stress and promote overall wellness, relieving many of the normal discomforts experienced during pregnancy, such as backaches, stiff neck, leg cramps, headaches and edema (or swelling). A gently nurturing, specially formulated massage for mothers-to-be that deeply relaxes.
'Benefits that a mother may experience:
Reduces swelling in hands, feet and ankles

Lessens sciatic pain

Eases muscular discomforts in areas like the low back & neck, calf cramps, it also helps with tension and tightening that can be experienced throughout the body

Tones lose muscles relaxes tense muscles and can help increase flexibility.

Helps with relaxation which in turn can decrease insomnia

Increases blood and lymph flow which can help increase the elimination of toxins through the circulatory and lymphatic systems, this can also help with fatigue.

Increases oxygen in the blood, sometimes on up to 10-15% after a massage.

Strengthens the immune system

Stimulates the release of endorphins, the body's natural pain killers, into the brain and nervous system.

Helps relieve anxiety or depression

Helps increase blood circulation, which in turn delivers more oxygen and nutrients to the mother and baby.

Can be used during the birth as well as after making both experiences easier and more comfortable

Eases stress mothers often feel after the birth'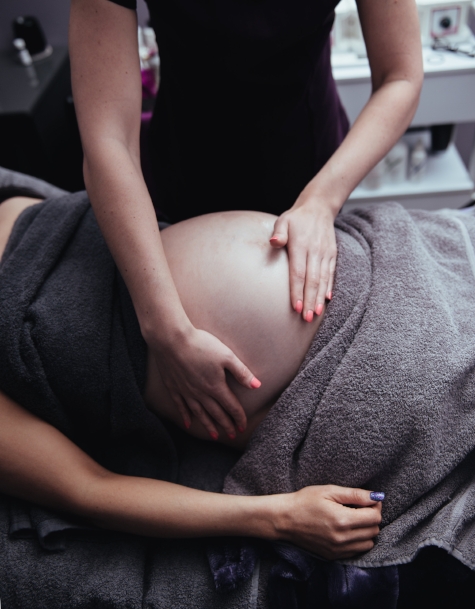 This treatment is designed specifically for mothers and mothers to be. The treatment is done in various positions and oils are chosen to soothe, calm and support mother and baby. The focus during a session is placed on comfort and assistance for a woman during this time of both beauty and challenge.
Pregnancy Massage 75 Minutes £55 - This includes a consultation, 60 minutes treatment time and resting/recovery time